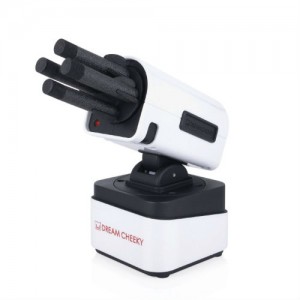 Guys like gadgets! While gadgets may not be the most personable of gifts, your man will appreciate you knowing what he likes!
If your man has a sense of humor and possibly a boring office job, get him this iPhone-controlled missile launcher that will keep him and his officemates or other coworkers plenty entertained!
If your Valentine enjoys the outdoors, and specifically likes to swim or snorkel, or if you're planning a tropical getaway, pick him up these very handy goggles that double as a high
resolution video camera! Hands free so he can enjoy his swim and look back and relive his experience.
If you're looking into a high tech, high end gift for your music lovin' Valentine, amaze him with these Bluetooth headphones from Parrot Zik. These are not your average headphones and include features such as a touch screen panel to control volume and switch tracks directly on the ear piece as well as the ability to pause music when the headphones are removed from the wearer's head. With concert hall sound quality and a sleek design, this is one gift your Valentine is sure to never forget!