You've found the pot of gold at the end of the rainbow! Gift Chameleon brings you a treasure trove of gift ideas in each color of the rainbow's spectrum.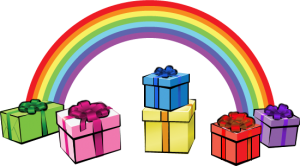 Gift Chameleon Brings Gift Ideas for the Color Lovers
Gift Chameleon's for the color-lovers. You know who we're talking about. The office worker who replaces the humdrum black stapler with a purple one. The new homeowner who wants the air ducts, blinds, linens, and watering can to all match the same shade of yellow. We think color-lovers make the world a more fun and beautiful place to be, one birthday, Valentine's Day, or mother's day at a time. So we made Gift Chameleon to make finding gift ideas for them fun and beautiful, too.
Find Gifts for Your Loved Ones' Favorite Colors
Most people have a favorite color—one that the mere sight of makes them feel happily at home. Some oddballs love orange; others can't get enough of blue. We here at Gift Chameleon, though, have a thing for rainbows. That's why the home page defaults to rainbow. 😉 Gift Chameleon is bursting with great gifts ideas for boyfriends, girlfriends, parents, or graduates, that make it beautifully easy to find gifts by color to suit your loved ones' favorite colors.
We Like You
You've found this little patch of heaven, but don't lose your way! Sign up for our mailing list. Like us on Facebook. And follow us on Pinterest and you'll keep up on all the delights the rainbow offers.
We would love to hear how you are enjoying shopping for gift ideas 2021 on Gift Chameleon, and if you want something you haven't found here, contact us! We're all ears.
If you would like to suggest a gift idea 2021, share your great taste with the world by suggesting it here.
Shop the Rainbow
Step into our rainbow boutique and immerse yourself in beautiful colors. We've got some awesome gift ideas 2021 here to brighten your day.
Let's Go Shopping