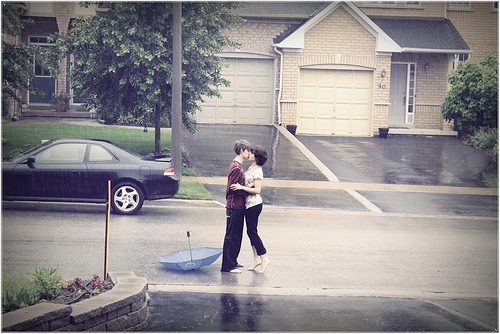 Some families are better than others at welcoming newbies into the fold, so if your family tends to be on the more intimidating side, take a few of the easy tips below and things should go a little more smoothly. Even if they're not intimidating, it's always good to be prepared!
Give Your Boyfriend the Lowdown Ahead of Time
Ideally, your boyfriend will have met your family members before the holidays, but if he's meeting most of them for the first time, help the process along by spreading some info.
Make sure your boyfriend knows a little bit about each person he's going to meet. This will make it easier for him to start conversations with them, helping everyone feel more comfortable. Don't be shy about talking him up to your family before he arrives, as the more they know about him, the more comfortable they'll be about asking him questions and starting or joining conversations with him, as well. It goes both ways!
Gifts: The Secret to Winning Good Graces
He'll probably volunteer to do so, but make sure he brings a gift. You are a precious jewel, so your family wants to make sure you are consorting only with the most upstanding of young men.
If you have large holiday parties, have him bring a gift that the entire group can appreciate, such as a bottle (or two) of wine, a tin of cookies, chocolates, or a tray of savory treats. Flowers or seasonal arrangements are always a nice bonus, as well. If there's a certain kind your mom or grandmother likes, let him know so he can get some extra brownie points.
Help Each Side Choose Gifts
If your family is small and exchanges gifts between every person, let him know so he'll be prepared. Help your family members choose his gifts (and vice versa) to make sure everyone will be happy.
If there are a large number of gifts being exchanged, try to have the exchange during a time when he won't be present to ensure that your relatives don't feel bad for leaving him out of the fun–it's unlikely that everyone will be prepared with a gift for a new boyfriend! If there's a Secret Santa, be sure to help him with the name he draws, but don't choose the gift outright, as having the final choice will help him feel more connected to his giftee and to your family in general.
New Boyfriend, New Tradition
Start a new tradition so he can be part of a new family activity, rather than simply joining in on ones that everyone else has down in the past. It could be as simple as playing a new game together or trying a new treat or drink.
A fun idea is to make some eggnog for a toast, then have everyone share a favorite memory from holidays past. This will allow the new boyfriend to learn more about your family, and also give them an endearing peek into his life. Everybody wins!
Tense? Escape for a Bit
Keep it relaxed. Holidays are about enjoying time with loved ones, so there shouldn't be room for stress, but it usually manages to creep in when we aren't looking. If things get a little overwhelming or stifling, ask him if he'd like to take a walk or go on an errand together. The time alone will give him a chance to let you know how everything is going without worrying about being overheard by your family.
You can also create opportunities for him to go on errands with smaller groups of your family (with or without you)–it's a great way for him to get to know them better individually. A little variety is always a good thing!
Good or Bad, It's All Memories Made
Really, there's no magic formula for making sure your new boyfriend has a good time with your family during the holidays, but with a little preparation and know-how, you'll at least be able to say you tried. On the upside, if it's awful and you stay together, there's nothing like a bad holiday to make a great story for the future. Best of luck!