Gift Ideas from Gift Chameleon makes it easy to delight loved ones with gifts in their favorite color, whether birthday presents, Valentine's gifts, Mother's Day gifts, or presents for other occasions. We made finding the perfect gift by color to be as wonderful as seeing a rainbow and being able to give someone (or yourself!) the gold you find at the end of it.
Gift Ideas 2021 by Color for the Color-Specific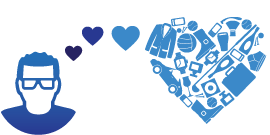 We all have those people in our lives who LOVE a certain color. Our expert gift-by-color curators study the psychology of each color and determine what gifts a certain color enthusiast would most enjoy. Then they search far and wide to find the most beautiful and sought-after gifts in that hue and suggest gifts for men, gifts for women, gifts for mom, gifts for boyfriends, Valentine's gifts, and more.
Shop Our Curated Selection of Gifts by Color
We have curated a rainbow of the finest kitchen accessories, tech gadgets, apparel, shoes, jewelry, perfume, home decor, garden accessories, and more to help you find the perfect gift idea for the person of any age.
The result? Fewer clicks to more smiles and a more colorful life!
About Our Mascot
Chameleons change colors to reflect their mood. Similarly, the color-obsessed may choose red and orange for their bright and cheery kitchens and blue and purple for relaxing bedrooms, or may tend towards one particular color to soothe their mood. Gift Chameleon brings gifts by color for whatever the color personality.
About Us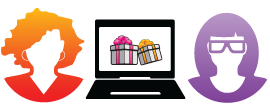 We are a few design-obsessed shopaholics. We love good design, shopping, and rainbows. We knew we couldn't be alone in wanting a one-stop shop to find good design separated by color. So we made it happen. And chameleons the world over gave us a thumbs up.
We would love to hear how you are enjoying shopping on Gift Chameleon, and if you want something you haven't found here, contact us! Or suggesting a gift here.
Keep up on the latest finds from our gifts by color experts! Sign up for our mailing list. Like us on Facebook. And follow us on Pinterest and you'll keep up on all the delights the rainbow offers.
Gift giving makes people feel good. So step into our rainbow boutique and shop our gift ideas by color to brighten your loved one's days.